Bareboat Holidays for Independent Sailors
Booking bareboat yacht charters can be an extremely confusing experience. Most bareboat yacht charter companies have glossy brochures which proclaim vessels as deluxe, five star, luxury or superior.
You should expect a high level of service to back up a quality vessel in excellent order with a basic inventory of safety and galley equipment aboard your bareboat yacht charter.
However, inclusions and extras can vary substantially amongst bareboat yacht charter operators and from vessel to vessel. Therefore, when you are researching your next boating holiday, read our following advice on booking bareboat charter holidays.
Make use of our experience and expertise in the bareboat charter industry 

Since 1985, Charter World has built up a portfolio of the finest bareboat yacht charter operators throughout the world, offering fleets of late model yachts, catamarans and motor cruisers from a variety of bases, offering backup, security and excellent reputations for quality and service.
With constant feedback from our clients and first hand inspections we are confident that all of our bareboat charter operators strive to ensure your bareboat yacht charter will give you some of the happiest holiday memories of your life.
Charter World has the knowledge and resources to guide you through the huge number of bareboat charter options available. (For example, a Jeanneau Sun Odyssey 40, 40.3, 39i, 409 and 42i all have three separate double cabins and two heads and can be closely priced, depending on the season; yet these vessels vary enormously built from 2001-2013).
We help you choose the best holiday package for your needs, air, land and sea and this service is free!
Booking your bareboat sailing charters with Charter World saves you time and money. Our large volume of charter and air travel enables us to offer the lowest package prices available.
In each of our destinations we offer and compare a selection of bareboat charter operators. Prices, inclusions and vessel age vary from company to company and are often complex. 
Have you considered engaging a skipper on your bareboat holiday?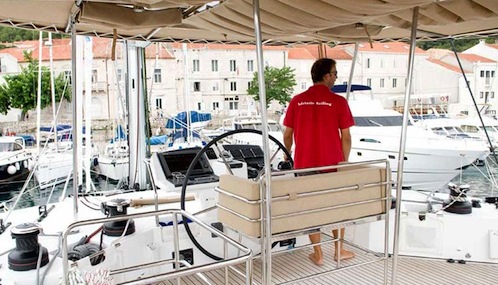 An economical and flexible option, this is extremely popular with small groups who like freedom and flexibility. You can be involved in the running of the vessel or relax and leave it to the local Skipper. Many clients enjoy learning and picking up new skills, but equally many are happy to sit back and enjoy the service.
Andrew has previously bareboated in New Caledonia and the Mediterranean and it is possible to take the Jeanneau 57 as a bareboat. However, with the family aboard, it was decided to engage a local skipper. Andrew relayed an insight into the difference it made for his wife Sarah:
"It was blowing 25 knots and the large Jeanneau 57 had the gunnels in the water and was screaming along at 10 knots. One of Andrew's children, noticing the relaxed smile on Mum's face, said "Dad you know if the skipper wasn't here Mum would be telling us to reduce sail and slow down!"
Andrew and Sarah Sailing in Sardinia with a Skipper
Comments from Bareboat Charter clients
The trip was perfect, perfect weather, perfect country, perfect water, perfect boat, perfect food, perfect company. You should be getting the picture. All eight of us said it was the best holiday we have ever had.
Campbell Martin Bareboat Charter in Turkey
We would certainly recommend sailing the Dalmatian Coast as a great holiday experience to those who wish to combine bare-boat yacht chartering with tourism in a friendly and historically rich environment.
Lin Merry and Andy Lee Bareboat Charter in Croatia
Just to let you know that our two-week charter in the Ionian Islands was sensational! The Lagoon 400 was a perfect choice – so well-appointed, comfortable and spacious – and apart from the first day, we enjoyed delightful cruising weather.
Ann and John Brodziak Bareboat Charter in Greece