• Compare rates of all yachts in Greece
• Direct operator prices and discounts
Click Here for Rates
Why Choose a Yacht Charter Holiday in Greece
Sailing the Greek Islands conjures up visions of deep blue skies, clear azure waters, breathtaking scenery, stark white villages, wonderful nightlife and dining in seaside tavernas. And yes, it is all true.
The Greeks are one of the most laid back people on earth and I can't help but think they have got it right, despite their will current advertised financial issues.
The different regions of Cyclades, Dodecanese, Ionian and Sporades are the main cruising areas, each worth several weeks in their own right.
Harbour side tavernas livelihood are the many yachts that berth in front on the quay – and they will generally look after you like long lost friends after one meal.
The Cruising Waters/ Conditions
Visitors to Greece agree the countries fabled isles are the heart and soul of the Greek experience. And the best way to see these Islands with their wide variety of topography and historical significance is aboard your very own bareboat charter yacht.
The choices are vast. The Ionian below Corfu is one of the most placid cruising regions with light winds and protection from the Island of Levkas. Those looking for more adventurous sailing should consider a one way Athens to Kos or Rhodes- with the wind and hoping from island to island through the Cyclades and Dodecanese Islands.
For those tighter on time, a seven night sail from Athens to the Saronic Gulf Islands of Hydra and Spetsai also offer a great variety of cruising.
Getting There
Singapore, Emirates, Etihad and Qantas airlines fly to Athens from most Australian capitals
Short domestic flights or ferry to all charter bases.
Local Cuisine 


Eating out is as much a part of life in Greece as in other Mediterranean countries. Greek specialties include baked dishes such as moussaka, stuffed vegetables or pastitsio. The food is invariable fresh, simply cooked and appetising.
Yachts Available/ Bases 


The widest variety of bareboat and crewed yachts, motor yachts and gulets are available across Greece, chartering regions;
Skiathos in the Sporades, Levkas and Corfu in the Ionian, Kos and Rhodes in the Dodecanese and Athens and Paros covering the Cyclades and Saronic Gulf.
Contact us for more details about this and other sailing holidays in the Mediterranean.

We are happy to create a personal Itinerary for your charter booking.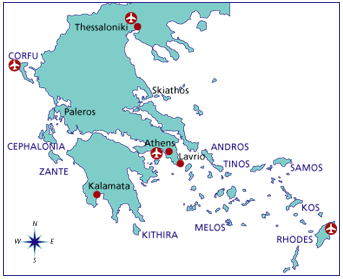 "Just to let you know that our two-week charter in the Ionian Islands was sensational! The Lagoon 400 was a perfect choice – so well-appointed, comfortable and spacious – and apart from the first day, we enjoyed delightful cruising weather. Not much wind on a few occasions, but with calm seas and magnificent scenery, dolphins swimming by, charming villages to explore and tavernas with great local food and wines, it was a dream come true. The Greek people everywhere were warm and helpful, really lovely… and after conversations with many, we have a better understanding of their country and its current issues. Each of the islands offered beautiful, sheltered bays, great swimming off the boat and scenic walks."
ANN AND JOHN
Featured Crewed Vessels for Greece
Full List Of Crewed Vessels
Featured Bareboat Yachts for Greece
Full List Of Bareboat Vessels



Charter World is Australia's original yachting holiday specialists.


We have been helping Australians find the very best yachts worldwide since 1985.


Access our personal booking service and detailed itinerary at no extra cost.


Enjoy the peace of mind from dealing with experienced industry professionals.


We offer only quality vessels and your booking is financially secure.


Call or email us for the best advice and charter rates to compare.