• Compare rates of all yachts in Tonga
• Direct operator prices and discounts
Click Here for Rates
Why Choose a Yacht Charter Holiday in Tonga
Most returning charterers agree that the appeal of Tonga remains its uniqueness in never having been colonized by a European power, although the missionaries had their influence with an enormous number of churches built and a reported 97% of the population showing up on a Sunday.
A population of some 100,000 lives a seemingly peaceful existence, without any five star resorts, shopping malls or freeways and yet no obvious evidence of poverty. Tonga, in fact, remains one of the most natural, untouched cruising areas of the world, probably because it is off the beaten tourist track.
Visiting a church on Sundays is an absolute treat, as is visiting the local primary schools who still appreciate small gifts – we usually recommend stationary. A Tonga feast is mandatory and there is opportunity to eat ashore at a variety of (mostly European) restaurants such as Dutch, Spanish and British – based on the emigrant restaurateurs.
Swimming with the whales is also a highlight in the season. Our advice is to get there before mass tourism begins!
The Cruising Waters/ Conditions
The cruising waters are very protected and with shoaling coral easy to navigate. Some describe it as an Island studded lake, although not large in that the recommended overnight anchorages would fit into a third the size of the Whitsundays. There is however, fourteen full days' worth of cruising including the daytime, only recommended anchorages to the South.
With an approximate one metre tidal range and minimal currents, it is possible to anchor close to shore so you can row or swim easily to many beautiful deserted beaches. April to December offers pleasant 10-12 knot, south-easterly trades, providing excellent sailing conditions.
Getting There
Virgin fly direct from Sydney to Tongatapu on Tuesdays and Thursdays, arriving after midnight, a sleep at the airport hotel and then back for a short one hour flight to Vava'u. Air New Zealand, also an option via Auckland.
Local Cuisine 


Feasting plays a prominent part in local lifestyle and visitors are drawn into occasions of great festivity and enjoyment. Strangely French, Spanish and German restaurants cater for cruising yachties however the Tongan feast is the highlight.
Yachts Available/ Bases 


For this coming season, the total fleet is small at: three Robertson Canes, 38', 39' and 44' catamarans and 33', 36', and 43' Beneteau monohulls, all based in Vava'u.
Contact us for more details about this and other sailing holidays in the Pacific.

We are happy to create a personal Itinerary for your charter booking.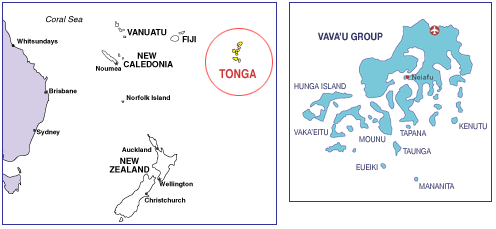 Featured Bareboat Yachts for Tonga
Full List Of Bareboat Vessels



Charter World is Australia's original yachting holiday specialists.


We have been helping Australians find the very best yachts worldwide since 1985.


Access our personal booking service and detailed itinerary at no extra cost.


Enjoy the peace of mind from dealing with experienced industry professionals.


We offer only quality vessels and your booking is financially secure.


Call or email us for the best advice and charter rates to compare.