• Compare rates of all yachts in Sicily
• Direct operator prices and discounts
Click Here for Rates
Why Choose a Yacht Charter Holiday in Sicily
The Aeolian Islands have a sense of remoteness about them, which is rarer in charter regions these days. Time has stood relatively still in these communities and mass tourism is still a way away.
Stromboli is probably the oldest lighthouse in the world, being still an active volcano and used by mariners for centuries. Unlike Etna which builds to a big bang, this Volcano relieves pressure day by day, so at night the glow is constant with lava running into the sea.
The Cruising Waters/ Conditions
The rugged volcanic islands of Salina, Stromboli Lipari and Vulcano in the Aeolilan group are highlights for anyone who visits by yacht.
The Aeolian got their name from Aeolus (the god of wind) and there is more breeze here than most parts of the Mediterranean.
It is possible to combine the Aeolian Islands with the Egardi Islands on the western end of Sicily with a one way sail- this combines the two best cruising areas. For the adventurous, with three or four weeks a circumnavigation of Sicily including Malta is possible.
Getting There
Fly to Rome, then a domestic flight to Palermo or Catania, or rail south and transfer across to Milazzo.
Local Cuisine
Specialities in Sicilian cuisine includes; seafood, vegetables (such as the aubergine and beans) and sweets. There are however a few typical Sicilian meat dishes such as involtini alla Siciliana: slices of meat rolled around fillings of ham, salami, cheese, breadcrumbs and onions and cooked over charcoal. Tuna and swordfish are caught off the coasts of Sicily and swordfish steaks sprinkled with lemon, capers and herbs and cooked over a charcoal grill.
Yachts Available/ Bases
The range of fleets in Sicily is quite limited- with bareboat chartering, only a relative newcomer to the area.
Bases to access the Aeolian Islands include, Milazzo (on the island of Sicily 15 miles south of Lipari) as well as at Procida – on the Italian mainland and to the East. Bases are also at Palermo, which is the access point to the Agardi Islands, on the western end of the island of Sicily. A limited number of Gulets, monohulls and catamarans are available from these ports.
Contact us for more details about this and other sailing holidays in the Mediterranean.

We are happy to create a personal Itinerary for your charter booking.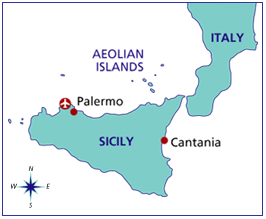 Featured Crewed Vessels for Sicily
Full List Of Crewed Vessels
Featured Bareboat Yachts for Sicily
Full List Of Bareboat Vessels



Charter World is Australia's original yachting holiday specialists.


We have been helping Australians find the very best yachts worldwide since 1985.


Access our personal booking service and detailed itinerary at no extra cost.


Enjoy the peace of mind from dealing with experienced industry professionals.


We offer only quality vessels and your booking is financially secure.


Call or email us for the best advice and charter rates to compare.